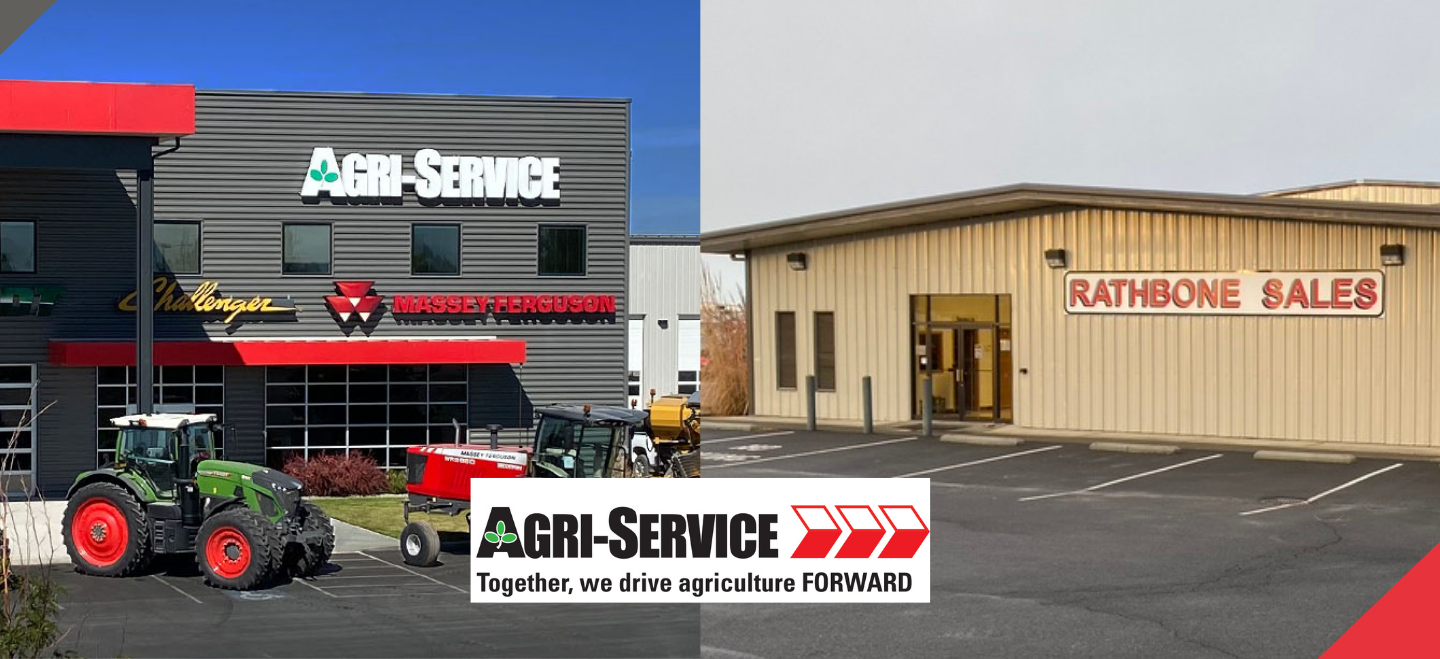 Agri-Service acquires Rathbone Sales in Moses Lake, Washington
January 7, 2021
Agri-Service acquires Rathbone Sales in Moses Lake, Washington.
KIMBERLY, IDAHO (December 31, 2020) — For 45 years Rathbone Sales Inc. has served customers in Grant, Adams, Kittitas, and Lincoln counties.  Under the leadership of Todd and Doug Rathbone they have formed many long term relationships and have represented the AGCO brands admirably.
Agri-Service, a nine location AGCO dealer servicing Idaho, Oregon, and Washington, is pleased to announce the signing of a Letter of Intent to acquire Rathbone Sales, Inc., an AGCO dealer located in Moses Lake, Washington, to be effective April 1, 2021. The new dealership is located at 3860 E Broadway Avenue.
"Agri-Service has been serving the Columbia Basin from the Pasco/Eltopia area for 22 years and we are excited about the opportunity to expand further into the area, bringing exceptional equipment brands like Fendt and Ag-Chem to the local market.   With the acquisition of Rathbone Sales, Inc. we will continue to deliver the outstanding customer service that their customers have come to expect." said Kevin Vivian, President of Agri-Service.
"The agreed acquisition is a win-win for both Rathbone Sales, Agri-Service, and the customer base in the surrounding geography of Moses Lake. It provides additional scale around two critical large ag products with regards to our world class Fendt tractors and our commercial grade Application equipment. More importantly, the increased presence delivers another choice for farmers in Grant County. Everyone knows farming is risky, and having choices reduces risk, and now there is another option to consider – and this is a darn good one." said Greg Milstead – Sales Director for AGCO Corporation.
Agri-Service has been in business for over thirty years and is honored to be one of the largest AGCO dealerships in North America showcasing Fendt, Massey Ferguson, Challenger, Hesston, Gleaner, RoGator and TerraGator. Agri-Service and its employees are dedicated to the success of agriculture in our territory by striving to be a trusted partner on every farm.
For more information about Agri-Service and the products and services provided, visit their website at www.agri-service.com.
# # #
MEDIA CONTACTS:        
Jon Buttars, Vice President of Logistics, Agri-Service | 509-545-8833 | jonbuttars@agri-service.com
Jeri Ahrens, Marketing Director, Agri-Service | 208-734-7772 | jeriahrens@agri-service.com