Parts & Service
Parts: We've got you covered.
Need quality parts for your new or used farm equipment? Our parts department carries a full selection of ag equipment parts with monthly promotional offers. We're ready to help you find the exact part you need—exactly when you need it. Click the links below to be taken to AGCO Parts books, complete the form on this page, call or stop in to place your AGCO Parts order.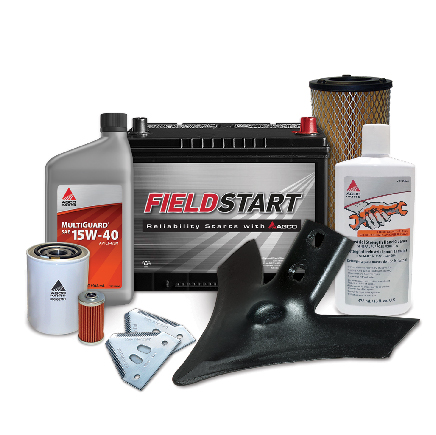 We understand the importance of uptime in the field. That's why we have over $7 million in parts inventory available to you for these ag equipment brands and more:
Service: In our name for a reason.
At Agri-Service, we pride ourselves on bringing you the best possible service for your ag equipment.
Our high standards help us provide you with some of the most highly trained, experienced technicians in the industry. We can service any brand or model of farm equipment you own. And if you need a repair in the field, our line of service trucks and 24/7 support will come to you and get you back up and running quickly.
Emissions Modifications:
Federal law prohibits removal, alteration or otherwise tampering with equipment's pollution control equipment. Therefore, it is illegal for Agri-Service to modify any brand of equipment emission's system. This includes "chipping" or engine tuning. The Code of Federal Regulations prohibits any defeat device, system or element of design which allows operation outside normal emission test conditions and reduces the emission control effectiveness.
Agri-Service is bound by law not to modify equipment that falls outside what is considered standard or to install non-standard equipment.
Dealer agreements include specific provisions that prohibit modifications to a supplier's equipment.  In addition, our manufactures warranties include language that void the warranty if the equipment is modified after it leaves the manufacturer's control.  This puts customers at risk of not having coverage and may impact your ability to receive reimbursement for "warranty work, if the equipment has been modified."
What this means:
Agri-Service will not accept equipment with modified controls and emissions on trade or consignment unless equipment is brought back to Original Equipment Manufacturers Standards (OEM).
If Agri-Service performs repairs on the customer's equipment and its controls and emissions have been modified, the customer will be responsible for all costs regardless of the outcome of repair.

Any diagnosis or repair done that compromises or damages the modified controls or emissions is at the customer's expense.
Any software, engine tuners and tunes deleted or damaged during diagnosis while using the manufactures diagnostic tools is at the customer's expense.
Loss of Manufacturer's support and warranty.
Agri-Service Right to Repair Policy
---