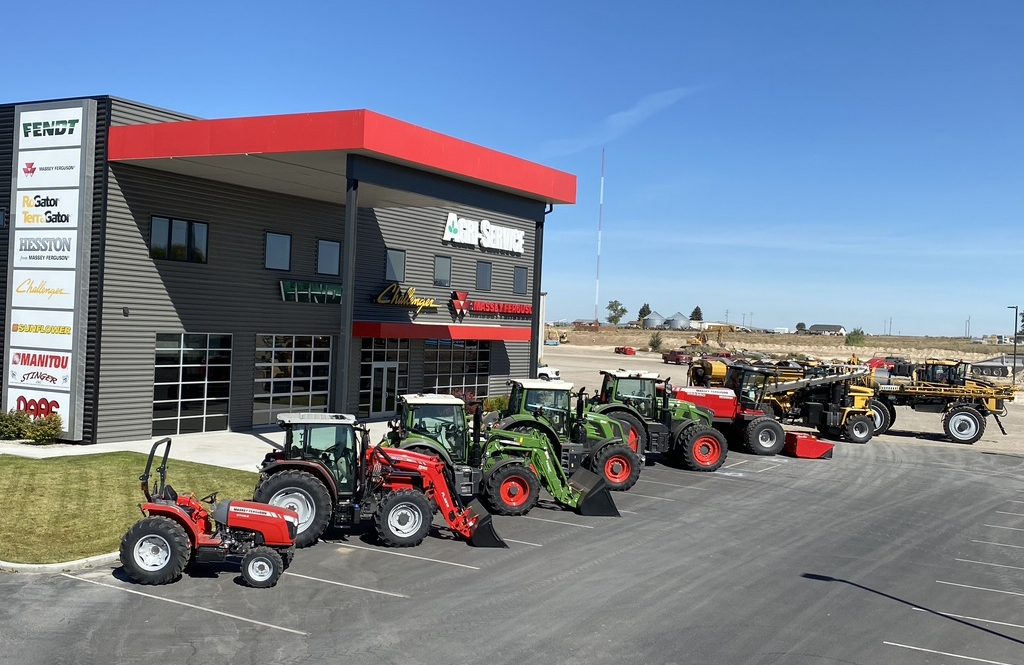 Agri-Service is expanding!
April 11, 2023
KIMBERLY, IDAHO (April 11, 2023) – Agri-Service, an eight location AGCO dealer serving Idaho, Washington, Oregon, and Wyoming, has entered into agreements to acquire the operating assets of two Idaho and Washington based AGCO dealerships.
The acquisition of Diesel & Machine with locations in Walla Walla and Deer Park, Washington and Lewiston, Idaho will take place on July 1, 2023. Diesel & Machine started selling Massey Ferguson tractors in Lewiston in 1991. In the spring of 2019, they expanded into Walla Walla by acquiring the Walla Walla Farm Center and in April of 2022, opened the Deer Park Farm Center in Deer Park. "What we are most excited about is the financial strength and leadership Agri-Service provides our dealerships to take them to the next level," says Guy Bernier, General Manager of Diesel & Machine. "The commitment to product training, the increased ability to take care of our customers, as well as the additional product offerings Agri-Service can provide is very exciting."
The acquisition of Blue Mountain Agri-Support locations in Lewiston and Moscow, Idaho will take place on September 1, 2023. Blue Mountain Agri-Support started in 1987 in Lewiston as a Gleaner and Hesston dealership, the Moscow location was opened on May 1, 1995. For the last 36 years, they have been recognized for their superior service and support of the Gleaner Combine and Hesston by Massey Ferguson Hay Products. "There are many times in every successful business that we are faced with decisions to further advance and improve our service to our longtime, loyal customers" says Dan Borders of Blue Mountain Agri-Support. "We are excited to partner with Agri-Service and offer real improvements in every sector of the dealership, along with the excitement of additional AGCO brands that will benefit our customers. Our team at Blue Mountain Agri-Support look forward to continuing to provide the customer the highest level of service as we become part of the Agri-Service family."
"The legacy these two dealers represent is important to AGCO and our values," said Bob Crain, AGCO Senior Vice President of Customer Experience. "Their work and investment have been a big part of AGCO's growth and success in the United States, and we sincerely appreciate their steadfast commitment to our customers. We're excited to see Agri-Service grow into these areas because we know the teams at Blue Mountain and Diesel & Machine have laid a solid foundation for good relationships and a successful future."
"Agri-Service's acquisition is truly Farmer First, as it strengthens and establishes a long-term commitment to our current and future customers." Bill Hurley, AGCO Vice President of Distribution, Americas, added, "Agri-Service is committed to continuing and growing a high level of customer service and satisfaction while expanding product offerings in the area with the addition of the Fendt product line. We congratulate the team and look forward to growing with them!"
"Agri-Service has been serving customers in Idaho and Washington since 1990, and we are excited by the opportunity to bring on the great employees from both organizations.  Along with continuing their high level of customer service and the tradition of supporting Gleaner, Hesston, and Massey Ferguson products, we will also be adding Fendt's high productivity equipment to the area." says Kevin Vivian, President of Agri-Service.