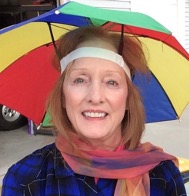 October's SPOTLIGHT is on Reva Gunter, Twin Falls Location
October 5, 2021
Reva Gunter is our October Employee Spotlight. Reva is our Corporate Office Receptionist. Our Human Resources Department was able to sit down with Reva and get to know a little bit more about her. Here is your chance to get to know Reva too!
What's something most people don't know about you? I am very clumsy and naïve.  I love to poke fun at myself for the dumb, awkward, and funny situations I find myself in.  Friends tell me that I should be a stand-up comedian.   Oh – and I won 1st place in 2012 Big Bucks and Bulls contest Ladies Deer Division.  SCI score 218 6/8.
What are some of your pet peeves? Drivers that don't pull over and stop for emergency vehicles. People that fly their drones near wildfires. (My son used to be a Smoke Jumper.)
What's the craziest thing you've ever done? Four years ago, I was chosen from the audience to go on stage with the Thunder from Down Under troupe in Las Vegas.  They whispered a few pointers to me and told me to just trust them.  So, I did…  in front of 350 people… with eight Thunder from Down Under guys.   Nope, (fortunately) there's no video.
What is your favorite quote? "This too shall pass."
What would you do for a career if you weren't doing this? I would be earning royalties from my Professional Slalom Water Skiing career.